Welcome to a new series where we feature our favorite free web tools and apps for language learners and teachers. This month we are highlighting our first app, Bilingua. I got to speak with the developers of Bilingua in 2016 and I have been excited about the possibilities. Bilingua is a language exchange app that connects learners with native speakers and has many exciting features to support language learners. Below are a list of the current features that support language learners, but the developers assure me more are planned. Ask your language learners to try Bilingua for further practice outside your classroom and see how much they improve. Bilingua can also be the platform for you to work one-to-one with language learners.
Each week we scour the internet to find great web tools and apps to share on our various social networks (@TESOL, @AmericanTESOL, and @ESLWebinars). Check out our past favorites here.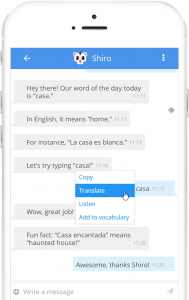 Advanced user matching connects users with other who share their interests or personality
Users can chat using text, and soon video or audio call
Corrections can be made directly in the chat so learners can teach each other
Users can translate words and sentences and listen to pronunciation examples
Vocabulary lists allow users to save words and Shiro reminds them to revise newly learned words
Shiro the bot provides guidance on what topics to talk about (coming soon)
Users can earn points, levels and badges as they practice languages to maintain their motivation (coming soon)
To learn more about integrating technology to support English language learners, attend our free Friday webinars.
Photo Credit: https://pixabay.com/en/learn-school-language-teaching-2001847