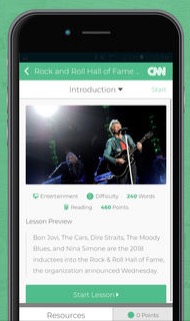 Every month we feature our favorite web tools and apps for English language learners and teachers. This month we are highlighting the latest application and iOS/Android app by WeSpeke, en.news, which allows users to learn English for free with CNN. Today's CNN news stories are today's English lessons on en.news. WeSpeke uses AI Natural Language Processing and Machine Learning technology to automatically repurpose the latest articles, videos, and podcasts delivered by CNN into English language lessons that are often available within minutes of breaking news.
English learners will find the following features useful:
Access transcripts
Adjust the speed of the videos
Tap on any word in articles for the definition and pronunciation
Complete 4 to 5 tasks, such as sentence scrambles
Share answers with your microphone
Earn points and badges for each lesson you complete
Compete with others on the community leaderboard
Each week we scour the internet to find great web tools and apps to share on our various social networks (@TESOL, @AmericanTESOL, and @ESLWebinars). Check out our past favorites here.
To learn more about integrating technology to support English language learners, attend our bimonthly free Friday webinars.