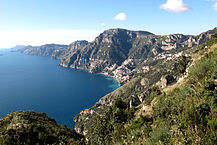 This week we invited language teacher, Antonella Balena, to introduce us to Benevento, Italy.
Shelly: Which landmark is a must for visitors?
Antonella Balena: Our town, Amalfitan Coast, Pompei.
Shelly: What is a popular local dish?
Antonella Balena: There are many popular dishes, like pasta, pizza, and fish.
Shelly: Describe an activity your English learners enjoy!
Antonella Balena: English laboratory activities.
Thank you, Antonella Balena, for introducing us to Benevento, Italy!
Antonella teaches English in a technical high school. She involves her students in many activities like intercultural exchange, the Erasmus plus projects, and abroad English language courses to help expose them to the real use of the language. She also enjoys using CLIL activities, because her students study technical subjects. Antonella prepares her students for International English language certifications.
*Photo Credit: Sentier des dieux-Positano-gb" by Gilbert Bochenek – Own work. Licensed under CC BY-SA 3.0 via Commons.