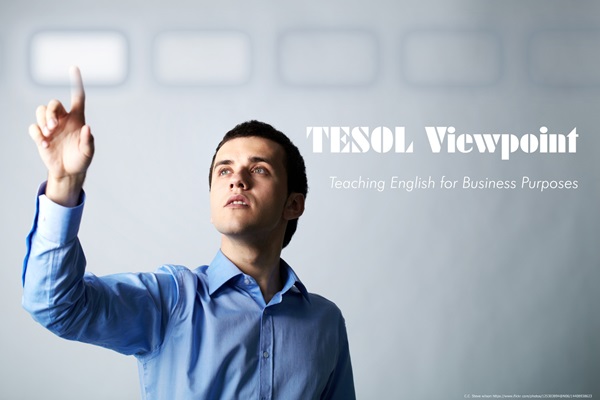 Many people learn English for different reasons. Some are interested to learn the language for academic purposes; they chose to study in countries where courses are taught primarily in English. On the other hand, there's a strong interest in learning English to conduct business. As business has become global, companies try to find new markets. Business professionals are in need to learn other languages in order to communicate effectively with their foreign counterparts. Furthermore, the use of English to advertize products has become on vogue.
Teaching English for business purposes has evolved throughout the years. English has become the lingua franca of business. Business English has attracted a lot of interest, and they are a lot of schools that offer courses in business English. English for business communication differs from, say, English for academic purposes in that it focuses on teaching learners how to communicate in a business setting. As Ellis, M. & Johnson, C. (1994) puts it "Business English implies the definition of a specific language corpus and emphasis on particular kinds of communication in a specific context" (Ellis & Johnson 1994, p.3).
Today, due to technological advances, business has become global and the need to learn more languages, especially English is growing. Courses have been designed to serve this purpose. More focus has been given to improve a learner's ability to communicate effectively in a social context. In addition, learners study how to write business letters and reports. They also learn negotiation skills and phone etiquettes. The goal of these courses is to build confidence and improve fluency.
Furthermore, English is becoming widely used in advertising in countries where English is not the native language. It is believed that it increases prestige and enhance the image of the product or service. Companies choose English to communicate with their customers and sell their products. Arguably, English is the lingua franca of advertising as more companies try to use English slogans and idioms as a vehicle to market their products and services. It is also predominantly used in business contracts and correspondence between advertisers and agencies.
Accordingly, it has become a major factor for business professionals and companies in general to master business English in order to communicate effectively with their customers and business counterparts. Bartholomew & Hurlbut (1920) argue that it is a mistake to suppose that one, who has pursued the usual English courses of high school or even those of college, needs no further study of English in order to become a master of the English of business. Business correspondence and the English of salesmanship and of adjustments have come to be recognized as vital in every business organization. A person who fails to see this is doomed to almost certain failure in the face of the active competition which he must meet. Bartholomew & hurlbut (1920, p.1).
To sum up the need to learn English for business purpose is growing tremendously. In a global economy that is characterized by fierce competition, companies are looking for new markets, which requires the need to learn more than one language especially English. Learning English for business purposes has become primordial in order to achieve an effective communication.
TESOL Viewpoint brings alumni essays on teaching English as a second language. This viewpoint focuses on teaching business English.
References
• Bartholomew, W. & Hurlbut, F. (1920). The Business man's English. NY, New York: The MacMillan Company.
• Ellis, M. & Johnson, C. (1994). Teaching business English. Oxford: Oxford University Press.