TRAVEL & TEACH ENGLISH IN THE VIRGIN ISLANDS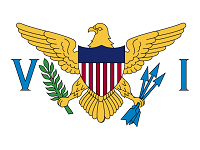 Virgin Islands (U.S.)
The Health section was updated - travel health information (Public Health Agency of Canada)
The U.S. Virgin Islands are
the
American authorities. It can, however, change at any time.
for the duration of your stay.
section
You should carry an international driving permit.
The U.S. Virgin Islands is one of five inhabited insular areas of the United States, along with American Samoa, Guam, Northern Mariana Islands, and Puerto Rico. The territory comprises a number of islands including St. Croix, St. John, St. Thomas and Water Island. The eastern islands form the British territory, and the Spanish Puerto Rican Virgin Islands are to the west.
EXPLORE TESOL COURSES TO TEACH IN THE VIRGIN ISLANDS
JOBS IN THE VIRGIN ISLANDS
BECOME TESOL CERTIFIED TO TEACH IN THE VIRGIN ISLANDS
APPLY TO SCHOOLS IN THE VIRGIN ISLANDS